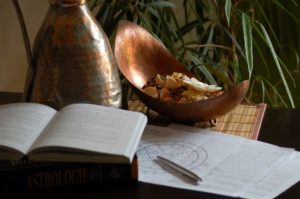 Astrology Consultations:  Please include birthdate, time of birth (as exact as possible), and city and state/province;  Readings are done via Skype/Phone, add 20.- in person
For more information about astrology you can visit the Wikipedia page.
In person Service ($20.00)
Add this to your cart if you wish to meet in person instead of via Skype or Phone.  You must have one of the other Astrology Consultations for this to be valid.
Personal Birth Chart ($100.00)
- great for your new child, teenagers, finding yourself
-the energies of the Universe at the time of Birth and how they affect you
-behaviour patterns
-brief summary of your health patterns
-intro to your life cycles
Health Chart ($100.00)
-health patterns indepth
-planetary influences on health
6 Month Personalized forecast ($100.00)
-Solar Eclipse effects
-Lunar Eclipse effects
-Mercury Retrograde
-Outer Luminary Aspect
Solar Return ($135.00)
-1 year themes
-Solar/Lunar Eclipse
-Mercury Retrogrades
-Outer Planets Aspects
Love/Lust/Romance Chart ($135.00)
-Identifying and Understanding what you are attracted to, feel comfortable with, what you need and with what you work best
-identifying your love languages
-identifying your love cycles
Career and Soul Purpose ($135.00)
-identifying your talents
-identifying your strengths
-identifying your best financial gain situations
-identifying your soul's purpose
-combining your soul's purpose with your financial possibilities
Progressed Chart ($115.00)
Who are you now? With time we develop and become more experienced and our thought patterns, perspectives and belief systems change.  Great for everyone over 30 years old!
Harmony and Tension (Relationship) ($185.00)
-great for parent/child
-boss/employee
-between friends
-in romance
-business partnerships
(Save $15 from the regular price of $200!)
***this is a two chart reading for each person and how they relate to one another